E-ISSN : 2503-0736 (Online)
P-ISSN : 1829-8176 (Printed)
DOI      : by Crossref - 10.34149/jmbr
URL      : https://jmbr.ppm-school.ac.id/index.php/jmbr/index
Language: Indonesian & English Article 
The Journal of Management and Business Review (JMBR) is an academic journal published twice a year (July and January) by the Research Center and Case Clearing House (RC-CCH) - Sekolah Tinggi Manajemen PPM. JMBR has obtained ISSN so that it can be recognized in the credit score assessment.
JMBR is a source of scientific information for academia, research institution, government agencies, and industries. We publish research papers on management and business strategy as well as related topics. We received the results of basic research and applied research. JMBR is a scientific journal focused on management and business issues. Topics discussed in JMBR are marketing, finance, strategic, human resource, operation, entrepreneur, and business.
Please read this guide carefully. Authors who wish to submit articles to a scientific training journal must comply with the writing Guideline. Articles can be written in Indonesian or English. If the article submitted is not in accordance with the writing guidelines or written in a different format, it will be rejected by the editor before further review. The editors only accept articles that meet the specified format.
Journal of Management and Business Review has been indexed SINTA 3, Google Scholar, IPI-Portal Garuda, ISJD, Crossref, DOAJ and Dimensions
This journal has been accredited by SINTA 3 for five years based on The Decree of DIKTI, Ministry of Research, Technology and Higher Education of The Republic of Indonesia No. 200/M/KPT/2020Â dated on December 23th, 2020
Accreditation Certificate:
JMBR is one of the board members of the Forum Pengelola Jurnal Manajemen (FPJM), based on Decree of No. 001 / SK / FPJM / XI / 2019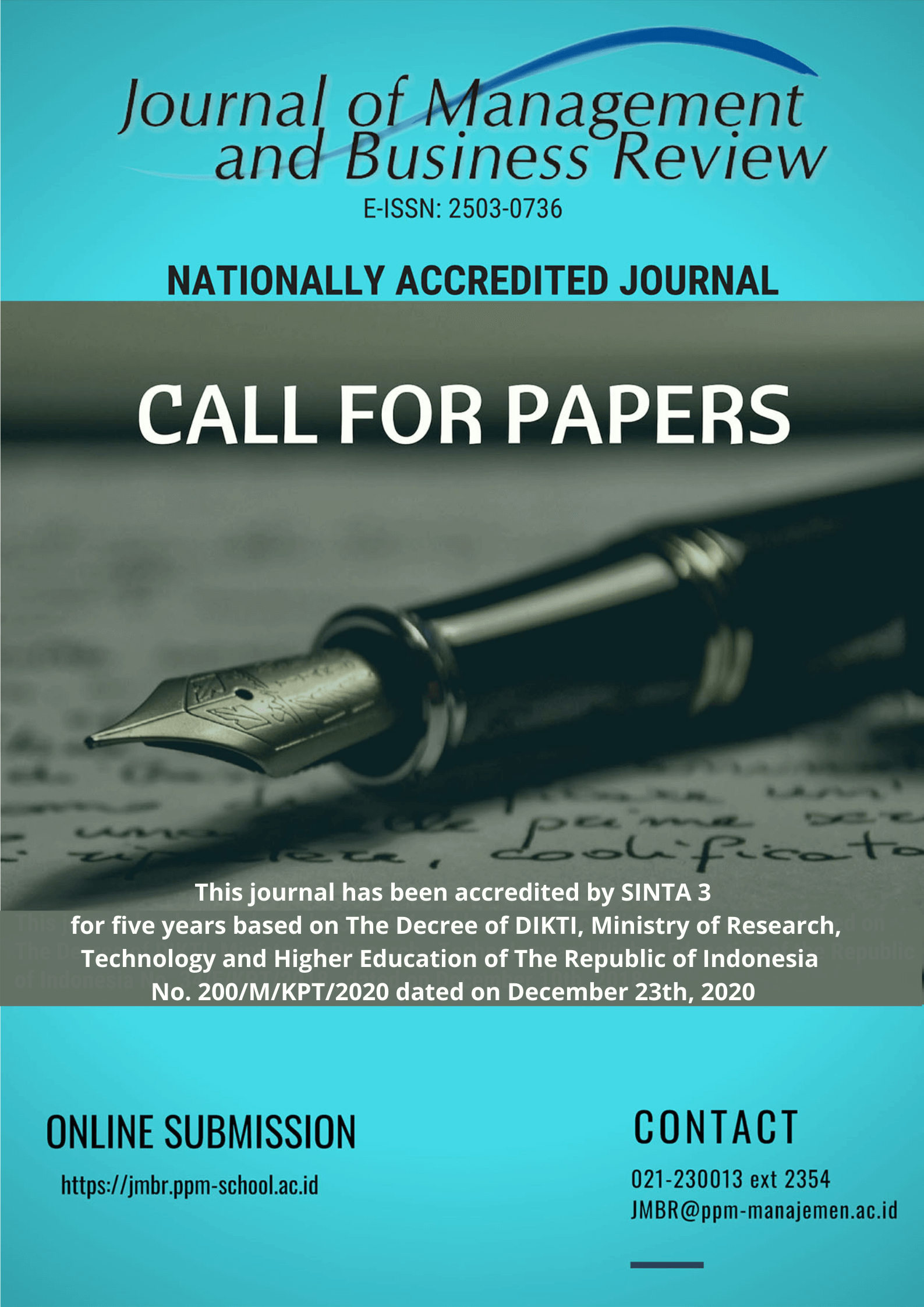 Announcements
Submission Temporarily Closed

Dear Author

With regarding a large amount of interest in manuscripts that have entered the editorial office of the Journal of Management and Business Review (JMBR) (note: the queue of manuscripts to be published up to the July 2024 edition does not include newly entered manuscripts), the JMBR Editorial Team decided to close the registration of new authors temporarily. Thus, authors cannot submit new manuscripts either online via the website or by e-mail. We apply this temporary closure policy for an unspecified time limit.
If you have any questions, don't hesitate to get in touch with us. Thank you for considering this journal as a venue for your work.

Posted: 2023-01-01
Vol 20, No 3 (2023): Special Issue Konferensi Nasional Riset Manajemen XII, 2023
This issue is all accepted papers from "Konferensi Nasional Riset Manajemen XII, 2023" which held on October 3-5th, 2023 by Sekolah Tinggi Manajemen PPM and Soegijapranata Chatolic University in collaboration with co-hosted by Prasetya Mulya University and Widya Mandala Catholic University. All accepted papers were reviewed by Reviewer Team of KNRM XII.
Full Issue
Table of Contents
Articles
Dona Ertika Shafira, Ossi Ferli, Enny Haryanti, Erric Wijaya

Pages: 207-220

Views: 40

Downloads: 102
Katarina Siena Herlika Cerline, Indah Sulistyawati Widiarti, Penta Parafina, Martdian Ratna Sari, Noveri Maulana

Pages: 221-239

Views: 24

Downloads: 93
Nisrina Sari Prihadi, Hendrarto Kurniawan Supangkat

Pages: 240-255

Views: 32

Downloads: 80
Claudia Lahindah, Ridwan Sanjaya

Pages: 256-265

Views: 35

Downloads: 69
Edy Purnomo, Berta Bekti Retnawati

Pages: 266-280

Views: 31

Downloads: 73
Dyah Titisari Anugraheni, Maria Yosephine Dwi Hayu Agustini, Sentot Suciarto Athanasius, Berta Bekti Retnawati, Ant. Haryo Perwito

Pages: 281-298

Views: 34

Downloads: 70
Diyah Dumasari Siregar, Yunita Andi Kemalasari

Pages: 299-310

Views: 30

Downloads: 74
Esti Dwi Rinawiyanti, Cindy Avelin Priska, Gunawan Gunawan

Pages: 311-331

Views: 40

Downloads: 77
Alva Putri Yevitayani, Alzaiwa Afriandra Pamungkas, Amelia Rosa, Audrey Christabella Kurniawan, Ferio Ferio, Yunita Wanasiri, Aprihatiningrum Hidayati

Pages: 332-352

Views: 33

Downloads: 85
Yunita Andi Kemalasari, Yunita Wanasiri

Pages: 353-363

Views: 38

Downloads: 73
Haryanti Haryanti, Andrianto Widjaja

Pages: 364-382

Views: 32

Downloads: 68
Evilia Sri Yuniar, Kusuma Agdhi Rahwana, Ira Nurhayati, Dhe Juliawati

Pages: 383-393

Views: 31

Downloads: 69
Astrid Amalia Saviera, Jusriyani Junaid, Renato Franklin Johannes, Martdian Ratna Sari, Noveri Maulana

Pages: 394-413

Views: 33

Downloads: 85
Rahmat Zamzami, R Bagus Hendero Pramono, Hendrarto Kurniawan Supangkat

Pages: 413-430

Views: 28

Downloads: 74
Roy Jones Wijaya, Lena Ellitan, Maria Mia Kristanti

Pages: 431-443

Views: 24

Downloads: 76
Maria Yosephine Dwi Hayu Agustini, Anastasia Posmaria Setiasiwi Sitohang, Sentot Suciarto Athanasius, R. Bowo Harcahyo, Berta Bekti Retnawati

Pages: 444-453

Views: 44

Downloads: 82
Cecilia Faliana Pungkasari, Maria Yosephine Dwi Hayu Agustini

Pages: 454-468

Views: 35

Downloads: 71
Bonifatus Junianto Wibowo, Veronica Kusdiartini, Dyah Titisari Anugraheni, Ignatius Supriyanto

Pages: 469-481

Views: 27

Downloads: 71
Ivan Agus Setiawan Pambudi, Widyarso Roswinanto, Ciu Heny Meiria

Pages: 482-501

Views: 28

Downloads: 69
Putri Andini, Anava Nesia Santoso, Kezia Yokbeth Wilhelmina Danomira, Martdian Ratna Sari, Noveri Maulana

Pages: 502-519

Views: 33

Downloads: 91
Muhammad Fadhullah Ali, Natasya Armitha Putri, Muflia Intan Putri, Ismi Darmastuti

Pages: 520-532

Views: 27

Downloads: 72
Nanang Jantan Jumeneng Parikesit, Catur Sugiarto

Pages: 533-555

Views: 27

Downloads: 80
Margaretha Emmanuella Sinaga, Hervikarani Purnomo Putri, Mirwan Surya Perdhana

Pages: 556-573

Views: 37

Downloads: 83
Miranda Cempaka Ganda Putri, Annisa Berliana Ramadhanti, Muhammad Fadlullah Ali, Mirwan Surya Perdhana

Pages: 574-588

Views: 36

Downloads: 89
Nabilah Putri Maulidini, Abdul Hadi, Ayu Indirawanty, Ivan Maulana Rasidi, Tri Andika, Aprihatiningrum Hidayati

Pages: 589-605

Views: 33

Downloads: 83
Lufina Mahadewi

Pages: 606-621

Views: 41

Downloads: 92
Martdian Ratna Sari

Pages: 622-636

Views: 26

Downloads: 62
Antoni Antoni, Aries Heru Prasetyo

Pages: 637-656

Views: 30

Downloads: 78