E-ISSN : 2503-0736 (Online)
P-ISSN : 1829-8176 (Printed)
DOI      : by Crossref - 10.34149/jmbr
URL      : https://jmbr.ppm-school.ac.id/index.php/jmbr/index
Language: Indonesian & English Article 
The Journal of Management and Business Review (JMBR) is an academic journal published twice a year (July and January) by the Research Center and Case Clearing House (RC-CCH) - Sekolah Tinggi Manajemen PPM. JMBR has obtained ISSN so that it can be recognized in the credit score assessment.
JMBR is a source of scientific information for academia, research institution, government agencies, and industries. We publish research papers on management and business strategy as well as related topics. We received the results of basic research and applied research. JMBR is a scientific journal focused on management and business issues. Topics discussed in JMBR are marketing, finance, strategic, human resource, operation, entrepreneur, and business.
Please read this guide carefully. Authors who wish to submit articles to a scientific training journal must comply with the writing Guideline. Articles can be written in Indonesian or English. If the article submitted is not in accordance with the writing guidelines or written in a different format, it will be rejected by the editor before further review. The editors only accept articles that meet the specified format.
Journal of Management and Business Review has been indexed SINTA 3, Google Scholar, IPI-Portal Garuda, ISJD, Crossref, DOAJ and Dimensions
This journal has been accredited by SINTA 3 for five years based on The Decree of DIKTI, Ministry of Research, Technology and Higher Education of The Republic of Indonesia No. 200/M/KPT/2020Â dated on December 23th, 2020
Accreditation Certificate:
JMBR is one of the board members of the Forum Pengelola Jurnal Manajemen (FPJM), based on Decree of No. 001 / SK / FPJM / XI / 2019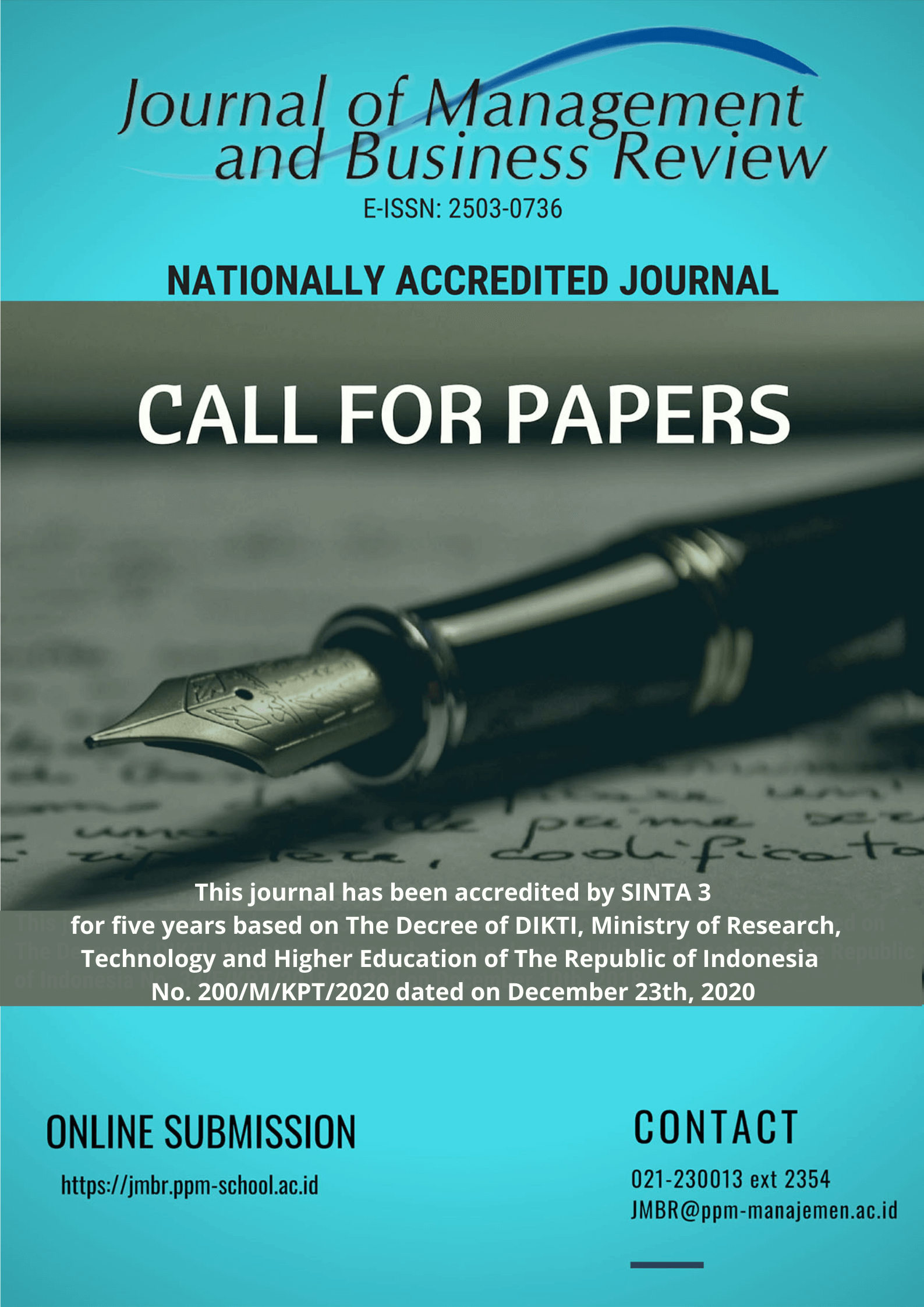 Announcements
Submission Temporarily Closed

Dear Author

With regarding a large amount of interest in manuscripts that have entered the editorial office of the Journal of Management and Business Review (JMBR) (note: the queue of manuscripts to be published up to the July 2024 edition does not include newly entered manuscripts), the JMBR Editorial Team decided to close the registration of new authors temporarily. Thus, authors cannot submit new manuscripts either online via the website or by e-mail. We apply this temporary closure policy for an unspecified time limit.
If you have any questions, don't hesitate to get in touch with us. Thank you for considering this journal as a venue for your work.

Posted: 2023-01-01
Vol 20, No 2 (2023)
July-December
Full Issue
Table of Contents
Articles
| | | |
| --- | --- | --- |
| | Endang Komesty Sinaga, Ikaputra Waspada | 102-114 |
| | | |
| --- | --- | --- |
| | Nora Sri Hendriyeni, Benediktus Tandya Pinasthika, Ilham Muhammad Akbar | 115-134 |
| | | |
| --- | --- | --- |
| | Amalia Putri Kusuma, Siti Hidayati | 135-150 |
| | | |
| --- | --- | --- |
| | Irsyad Muhammad Firdaus, Kurniawati Kurniawati, Nadhea Oudynella Marzia, Nindita Dwinurfrinda Putri, Radhita Intan Anggraini, Sela Kustiawan | 151-169 |
| | | |
| --- | --- | --- |
| | Saur Costanius Simamora, Ikaputra Waspada | 170-189 |
| | | |
| --- | --- | --- |
| | Novy Silvia Dewi, Benediktus Tandya Pinasthika | 190-206 |